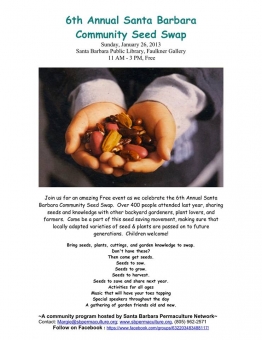 Join Santa Barbara Permaculture Network as it hosts the 6th Annual Santa Barbara Community Seed Swap, with two events.
With a theme of plants from the Western Hemisphere & Mesoamerica this year, the event kicks off on January 25th with an evening talk by Lorenz Schaller of the Kusa Seed Society, titled "Modern Science Meets Ancient Maize"
Continuing on Sunday, January 26, the 6th Annual Community Seed Swap takes place, and also encourages a look at seeds and plant stuffs from the Western Hemisphere.  Please come and share your examples of plants from the Americas. Dr. Anabel Ford will be there to share seeds from MesoAmerica and discuss forest gardening and sustainable agriculture. 
Also, if you want to read about previous Seed Swaps, check out Dr. Ford's blog!