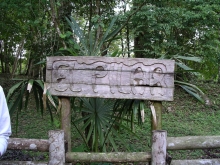 El Pilar is located twelve km north of the western Belizean town of San Ignacio, astride the Belize-Guatemala border. The ridge land escarpment where El Pilar is prominently situated extends from Guatemala's Peten into Belize, north of the Belize River Valley. Coming up from the valley on the Pilar Road, you have ascended this major escarpment more than 900 ft, or some 340 m.
El Pilar has more than twenty-five identified plazas in an area of approximately 100 acres (38 hectares), ranking it equal with major centers of the lowland Maya area. It is the largest center in the Belize River area, more than three times the size of such well-known centers as Baking Pot or Xunantunich. The site is divided into three primary sectors: Xaman (North) Pilar, Nohol (South) Pilar and Pilar Poniente (West). The eastern and western sections are connected by an offset causeway system extending between two large public plazas. Recently added to El Pilar is causeway trail that allows the visitor to walk part of the causeway which joined two parts of El Pilar. The house site of Tzunu'un is a sample of how the Maya lived long ago, with a forest garden surrounding their living areas.
For More information on visiting El Pilar, click here!