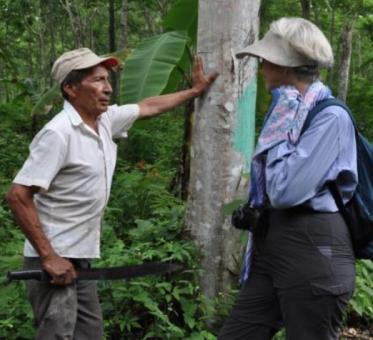 Anabel Ford, Ph.D.
University of California, Santa Barbara
Monday, Jan 4 at 7:30 p.m., Fleischmann Auditorium
It is a common belief that the ancient Maya disappeared and their population became too large to be supported with the traditional milpa farming. Yet the Maya civilization flourished for millennia and the Maya are still here today. Drawing on ethnography, archaeology, paleoecology, botany, agroforestry, geography, conservation and more, Ford asks why today the Maya forest a garden where the dominant trees are useful? Presenting years of interdisciplinary research centered at El Pilar, Ford shows that the milpa cycle of the contemporary Maya fits with the archaeological settlement patterns. This alternative paradigm links the Maya present to past and has captivated scholars, permaculturalists, and the avocational archaeologist.
The Maya Forest Garden: Eight Millennia of Sustainable Cultivation of the Tropical Woodlands will be available for purchase at the lecture. Dr. Ford will hold a book signing at the conclusion of the program.
Admission is free.
Presented by the Santa Barbara County Archaeological Society