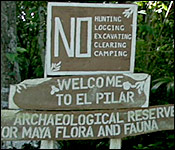 Symposium. That's where the local and international academics converge every year for to discuss the work they've been doing along side NICH. And while the symposium had them sitting in a conference hall, their work is in the field, digging in the dirt for clues to the ancient past. But, one archaeologist's work on an ancient site is very connected to the present. That's Dr. Anabel Ford, who discovered the El Pilar Site in the early 80's and has been working there for at least three decades. Located 7 miles west of Bullet Tree Falls village, this site sits in both Belizean and Guatemalan territory.
The work of Dr. Ford and her team is somewhat complicated by the politics surrounding Belize Guatemala cross-border relations. But for years, she's been able to navigate the often tricky cross border politics to restore and preserve this very important Maya site.
And, yesterday, she even got a number of Ambassadors, Government officials, an OAS Observer, and even a Supreme Court judge to go trekking through bad road, bad weather, and deep into the jungle just for a special ceremony.