Conservationist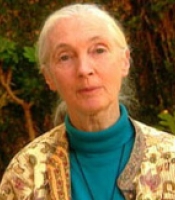 Jane Goodall is a noted humanitarian, environmentalist, and is well known for her remarkable work observing the behaviour of Chimpanzees in their native habitat. In the past few decades, Jane has been increasingly concerned about the damage to the environment, which is especially a problem in Congo and West Africa. Since then she has devoted her time to campaigning and acting as an advocate for environmental charities and concerns. She has an exhaustive travelling schedule and speaks on average 300 times a day, encouraging people to do what they can to create a better world.
We have interviewed Jane Goodall for "Our Past is Our Future - Maya Forest Gardens of El Pilar" documentary. Here is a small part of the script of the documentary.
JANE GOODALL:
Hello, I'm Jane Goodall. I've spent much of my life empowering people so that they can make a positive difference in our world. As people practice sustainable livelihoods, step-by-step, they are creating healthy ecosystems. And they are inspiring new generations around the globe. I'm here to tell you about just one of these many signs of hope … El Pilar. On the boarder of Belize and Guatemala, this ancient Maya city is being preserved for future generations. But what makes this archeological program unique is that not only are its monuments and buildings being protected, but also its forest environment – an environment that sustained the Maya for centuries … and with your help will sustain their descendents for generations yet to come.