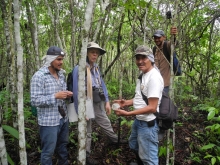 Park management is fundamental to the long-term research and development plan as well as to the reserve's future. Informed designs are based on cultural and ecological research. Identification of key actors, incorporation of public interests, articulation of the mission, and a clear set of objectives for the sustainable management of the reserve are essential. Finally, the extent of conservation goals, issues of access and education, and the long-term funding needs must be developed.
The program is at a important stage. All the actors have been identified: the community, the governmental administration, and the interdisciplinary research components in Belize and Guatemala. The object now is to develop implement the strategic plan for one El Pilar in two countries.
The El Pilar vision incorporates concerns and desires for both resource conservation and economic development. A balance between short-term strategies for community involvement and long-term concerns for conservation of the ancient architecture and the environment is vital. Educational and interpretive designs for the park and surrounding landscape are also important. These facets depend on the results of integrated, collaborative, and interdisciplinary team and are crucial to establishing the reserve on a secure and permanent base.
The natural environment, cultural resources, forest gardens, adjacent contemporary peoples, and access for tourism all figure prominently in the master research and development plan as well as the ultimate model, the El Pilar Archaeological Reserve for Maya Flora and Fauna.